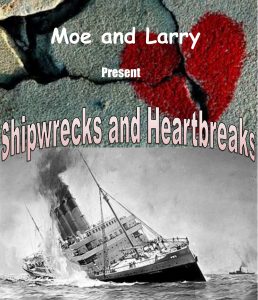 Moe and Larry are doing a multi-media show that we are calling Shipwrecks and Heartbreaks.
Whether a freighter breaks up in a storm and sinks or a torrid love affair ends up on the rocks, the result for the survivors is heartbreak. For centuries, both kinds of events have become the inspiration for song.
Shipwrecks and Heartbreaks will use powerful imagery, musical and visual, to chronicle many kinds of heartbreak but will also include some voyages—both nautical and personal—with happy endings.
Performances: